Casinos Benefit Missouri
Missouri casinos offer first-class entertainment. Invest billions in the community.  Provide more than 5,800 jobs. Fund education, veterans and community programs through gaming tax revenue. Buy from local vendors. Support responsible gaming programs. And we give back generously.
Casino taxes are the State of Missouri's fifth largest source of revenue.
Missouri Casino Industry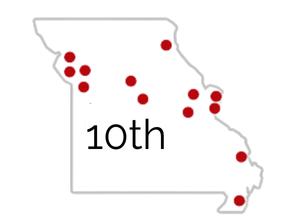 According to the Missouri Gaming Commission (MGC), Missouri ranks 10th in the country in total state gaming tax revenue and 11th in consumer spending on commercial casino gaming. The St. Louis/Illinois region is the 9th largest casino market in the U.S. and the Kansas City region is the 12th largest (based on 2021 year AGR).
Missouri Casino Tax Revenue
Casino taxes are Missouri's 5th largest source of revenue
Missouri ranks 9th in United States for gaming tax revenue
Missouri ranks 10th for consumer spending on commercial casino gaming.
History of Missouri Casinos
Missouri's first two cruising riverboat casinos – President Casino in downtown St. Louis and Station Casino in St. Charles – open on May 27 with video poker and table games. Argosy Casino Riverside, St. Jo Frontier Casino and Harrah's North Kansas City open by September. Voters approve games of chance in November and guests are playing slot machines in December.
Missouri Gaming Association establishes its first responsible gaming program, the 1-888-BETSOFF hotline. Casino Aztar in Caruthersville and Sam's Town in Kansas City open.
Missouri Gaming Commission allows riverboat casinos to remain dockside. Flamingo Hilton Kansas City opens.
The Missouri Alliance to Curb Problem Gambling is founded. Station Casino Kansas City and Players/Harrah's Casino in Maryland Heights open.
Voters approve a constitutional amendment permitting boats in moats within 1,000 feet of a river. Sam's Town becomes the only Missouri casino to close.
At the five-year anniversary, Missouri has received $580 million in tax revenue for education and $148 million to host communities.
The dedicated Compulsive Gamblers Fund, which is financed through admission fees paid by casinos, is signed into law.
Mark Twain Casino in LaGrange and Isle of Capri Boonville open.
The $360 million Ameristar St. Charles Casino and Hotel expansion opens.
Argosy Riverside Casino and Hotel opens its $105 million expansion.
At the 10-year anniversary, Missouri has received a total $1.65 billion for education, and $473 million for veterans and early childhood programs. Missouri Casino Entertainment 10th Anniversary Book
Total casino capital investment in Missouri exceeds $1.8 billion.
More than $1.3 billion in expansions and renovations are underway, for a total capital investment of more than $3 billion. The Missouri Gaming Association funds gambling-related questions on the Missouri Department of Health behavioral risk factor survey.
A survey of Missouri casino employees shows their job satisfaction is nearly double that of the U.S. workforce. Help for problem gamblers is expanded with an email option for reaching 1-888-BETSOFF.
Voters eliminate Missouri's $500 loss limit, the only such restriction in the nation, making Missouri more competitive for casino tourism dollars. The Missouri Department of Health reports that less than one percent of Missouri residents who gamble report financial problems related to gambling. Lumière Place Casino and Hotel in downtown St. Louis opens.
In a year when casino attendance falls sharply nationwide, Missouri is one of just three states to see gaming revenue increase. $470 million in state tax revenue is generated.
River City Casino opens in South St. Louis County. Missouri casinos employ more than 11,000 people and donate more than $2 million to charitable organizations.
Veterans programs receive $6.6 million in tax revenue from Missouri casinos, which also honor veterans with charitable donations and volunteer hours.
The state's 13th and final casino, Isle Casino Cape Girardeau, opens its doors. Casinos have generated a total $1.2 billion in tax revenue for host communities since 1994.
An $82 million casino expansion of River City Casino in South St. Louis County includes a seven-story hotel and 100 new jobs.